Weight Loss Tips : Weight Loss Tips For Good Health
With the various trend of foods right now, the rate of obesity sufferers is increasing rapidly without weight loss tips correctly.
In addition, almost all people in this world are working and they do not have enough time to prepare homecooked meals for themselves, in fact, they will grab the foods from the fast-food restaurant. With this habit, no wonder why the number of obesity keeps increasing.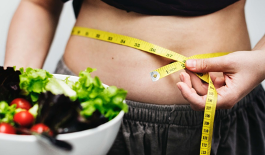 Obesity is very dangerous as it can lead to many chronic diseases such as heart attack, kidney failure, diabetes and early death. This problem is very worrisome to the minister of health.
For those who want to lose weight and prevent obesity, here are some tips you can follow to make your diet easy and effective.
Weight Loss Tips For Good Health
LOW CARB MEALS
The very first step in the diet is, avoid eating high carb meals. For example, the foods that contain high sugar and starch such as white rice, noodles, potatoes and white bread. Instead, you need to switch to low carb meals.
Low carb meals work to make you want to eat less.
The lesser you eat, the lower the risks of obesity and surely you lose your weight. On the other hand, low carb meals are very healthy for your body.
ONLY EAT WHEN HUNGRY
You are highly advised to take your meals when only you are hungry.
This is because by taking foods frequently will slow down the weight loss.
At the same time, you also need to stop eating before you get to full. Eating too much foods is very unhealthy.
FASTING
Fasting is also one of many ways to lose weight. Furthermore, a study says, fasting can lose weight and prevent obesity. When you are fasting, you will eat in a restricted hour.
Commonly during this type of hour, you tend to grab fewer calories of foods.
EXERCISE
Make it a habit to exercise regularly. Exercise can help to speed up the fat burning in your body. Spend at least 20 minutes a day to exercise. In addition, exercise also helps to strengthen your muscles and at the same it works as a stress reliever.
BREAKFAST
Breakfast is very important. Do not skip your breakfast as breakfast works to supply the energy to your body for that day. You are highly recommended to take protein for breakfast.
By taking protein, you will feel full and your body does not need carbohydrates to function properly.
In conclusion, there are a lot of ways to lose weight and prevent obesity. All you need is to follow it correctly to have effective results. Besides, never give up until you archived your target. Where the will, there is a way.