Simple Bedroom Design Ideas To Improve Your Life
Your simple bedroom design may be a blessing for a better night's sleep. According The American Sleep Association that recommends keeping stimulating activities out of the bedroom.
They warn that distractions such as the TV, internet, and work can disrupt your sleep patterns. So, the less the activity is to do in your bedroom, the more you will get enough sleep.
But how is that for smart design?
Here are savvy room decorating ideas to help you create a simple bedroom design space that may be in style and of course will improve your life!
Tips For Simple Bedroom Design
Stick to a color scheme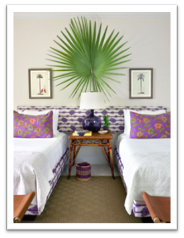 It is hard to decorate when your palette is all over the place.
Pick a few bold colors to focus on (like green and purple) and a couple of easy neutrals (like white and beige) to balance the brighter choices for creating your simple bedroom design.
Try a two-tone wall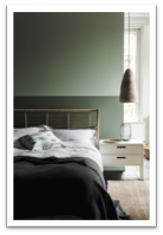 Make a dramatic change with just a couple of cans of paint and some painter's tape.
Go with a darker color on the bottom half of the wall and save a hue a few shades lighter for the top portion to draw the eye upward.
Swap in a rolling cart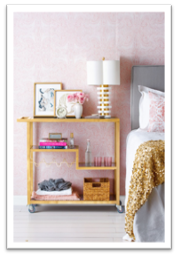 A bar cart makes a great nightstand.
Keep a lamp and alarm clock up top, a carafe and glasses on the middle shelf, and extra linens and a catchall basket underneath, so everything you could ever need is in reach.
Hang art behind the decor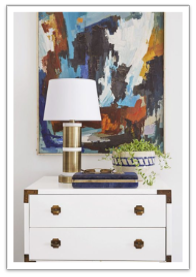 You will be shocked how different your gold table lamp and dresser look when a huge modern painting is hung behind it. Suddenly you have got a vignette background instead of simply a plain surface  for your simple bedroom design.
Create a reading nook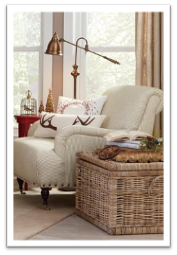 All it takes is a cozy chair, a standing lamp, and a new book to make the corner of your simple bedroom design feels like a brand-new space.
Reframe your view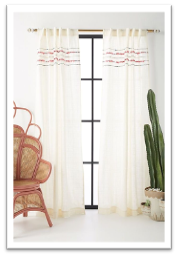 Add some "Wow" to windows with fresh curtains. Even new tiebacks or finials can dress up existing panels.
Bring in something vintage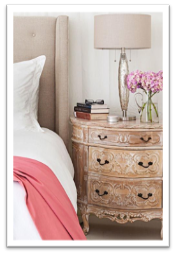 Changing the finish on an existing piece is a small investment that will pay off big time when it comes to your simple bedroom design.